MARBLE CLEANING HOUSTON TEXAS
Bizaillion Floors, LLC. is Houston's premier marble floor cleaning, marble tile polishing, marble floor sealing, and marble tile floor restoration company that has been serving the Houston Metro Area for over 4 decades.
WE KNOW MARBLE TILE FLOORS!
With normal foot traffic, your marble tile flooring can become dull, scratched, or "etched." Which is unsightly and can be an eyesore if not properly cleaned. We appreciate and understand the characteristics of marble tile flooring and the beauty that it brings to homes and businesses. Our extreme passion and a rock-solid commitment to educating our customers on proper care and maintenance is apparent in every marble floor we clean. Our superior customer service before and after the project has earned the Angie's List Super Service Award since 2007.
MARBLE FLOOR CLEANING – TRUST YOUR FLOOR TO THE EXPERTS!
What sets Bizaillion Floors, LLC. apart from its competitors is that Bizaillion Floors has the strongest guarantee in the industry! We will waive our setup and trip charge fees if you are not 100% satisfied.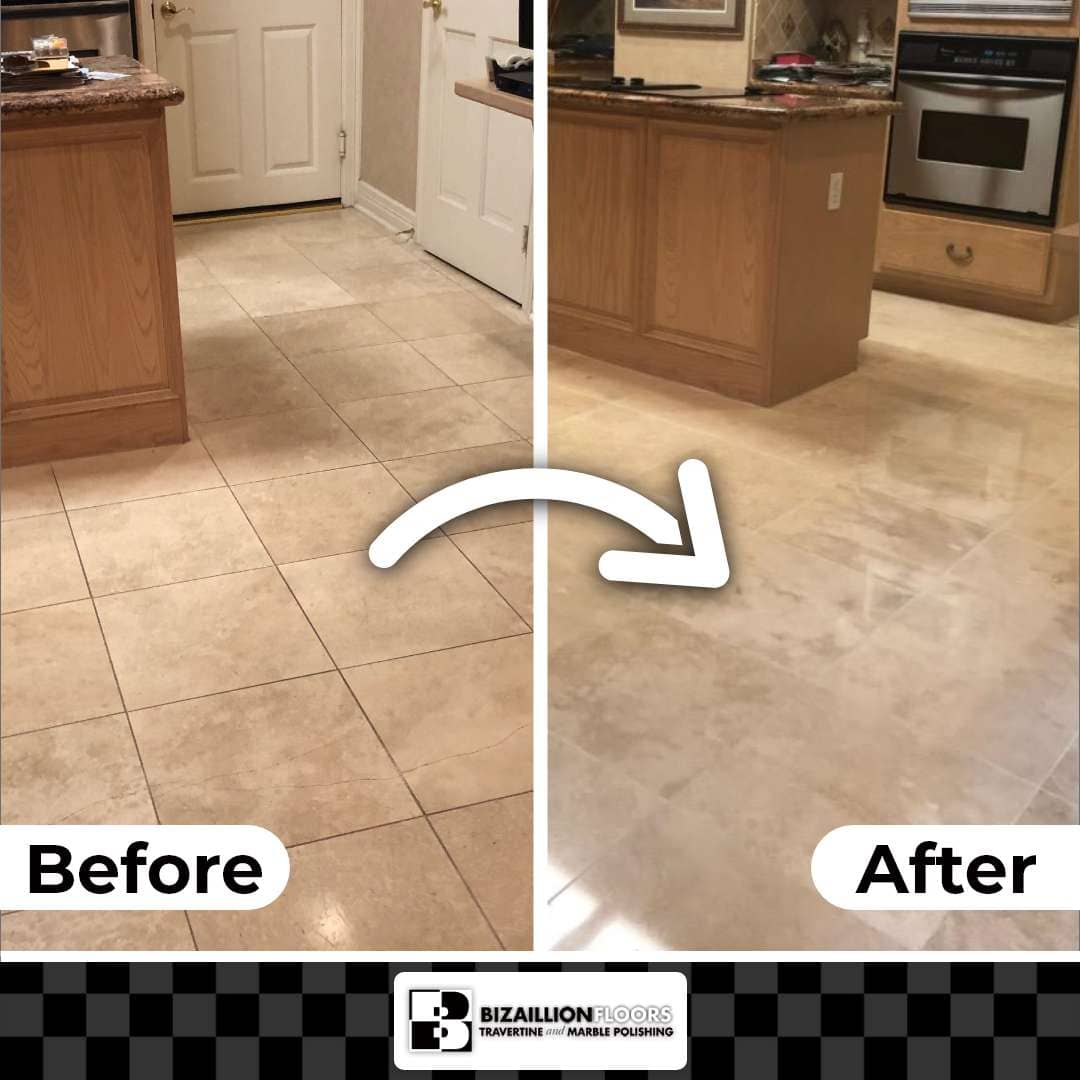 We provide superior workmanship at a fair and affordable price. Having the option of cleaning and restoring your marble flooring can save hundreds or even thousands when compared to the cost of replacing your dull marble flooring.
Our highly skilled team of marble tile floor cleaning professionals will make your marble surface look as good as new the day your marble floor was first installed. Our state-of-the-art techniques clean your marble flooring surfaces and bring them back to their original luster. With our proven results and decades of expertise, understanding of marble flooring, and dedication to quality. We can effectively bring out the highest potential of your marble tile flooring.
MARBLE CLEANING AND SURFACE CLEANERS
Moreover, there are a lot of other companies that will use surface cleaners for marble cleaning, which as a pressure washers with a vacuum. These machines often open up the pores on soft stones, so we don't recommend using that on your specialty floor. The vacuum does not stop the water from penetrating the floor and opening up the pores. Besides, Let me give you an example that you might understand. If you have ever pressure washed your driveway or concrete, you would have noticed little particles of sand all over you and everything around you. Now we can think that it's dirt, but the truth is that it's part of the concrete, and you are opening up the pores. After cleaning your concrete, it gets dirtier and faster unless you seal it. It will happen to your marble the same way.
Call (832) 290-2142 Contact Us
MARBLE MAINTENANCE SERVICES
Once you have your marble floors done by a professional, the floors should last about 1-4 years depending on traffic and if the floor was sealed correctly. We recommend getting your floors done as needed in that window, and never wait longer than the recommended 4 years.
MISTAKES WE SEE WHEN CLEANING MARBLE
Cleaning marble requires special tools, chemicals, sealers, and protectants to prevent scratching, etching, and permanent staining. If your professional DOES NOT have the right tools, chemicals, and expertise, he could create a scenario for some fairly significant damage to your marble stone. CAUTION: never clean marble with cleaning products containing lemon, bleach vinegar, or any acidic product. Also, never use scouring creams and powders. These products will etch or scratch marble floors and cause costly marble restoration services to your budget. Also, NEVER clean with high alkaline cleaner as they break down the sealer leaving your floors vulnerable to water stains, etch marks, and other stains. We also NEVER Recommend using OxiClean or Mr. Clean Magic Eraser as a cleaner on any natural stone. OxiClean and Mr. Clean Magic Eraser have many beneficial uses but using them to clean your marble is NOT one.
All our clients receive a comprehensive Stone Care Guide that addresses these issues. The next biggest mistake we see people make is that either homeowners or their professional marble cleaner will use a generic sealer from the local hardware store that leaves the floor with a sticky residue. The reason for that is because your polished, tumbled or honed marble has various different porosities. You will need a sealer that correctly matches your marble type.
Call (832) 290-2142 Contact Us
Have Any Project for Us? Call Now Or Send A Message SEND MESSAGE
Contact Us
12436 Farm to Market 1960 Rd W #111, Houston, TX 77065, USA
Call (832) 290-2142