When it comes to elegance and sophistication in flooring, slate is a timeless choice that has adorned homes, offices, and commercial spaces for centuries. Its natural beauty, durability, and distinct texture make it a popular option for those who seek a unique and lasting aesthetic appeal. However, as with any flooring material, slate floors require regular maintenance and care to retain their splendor. This is where Biz Floors steps in, offering top-tier slate floor cleaning services in Houston to ensure your space continues to exude charm and allure.
The Essence of Slate Floors
Slate floors are characterized by their earthy tones, rich textures, and captivating patterns, making them a versatile choice for both modern and classic interiors. These natural stone floors are formed from sedimentary rock, giving each tile a one-of-a-kind appearance that adds a touch of sophistication to any environment. With proper care, slate floors can withstand the test of time, maintaining their striking appearance for generations.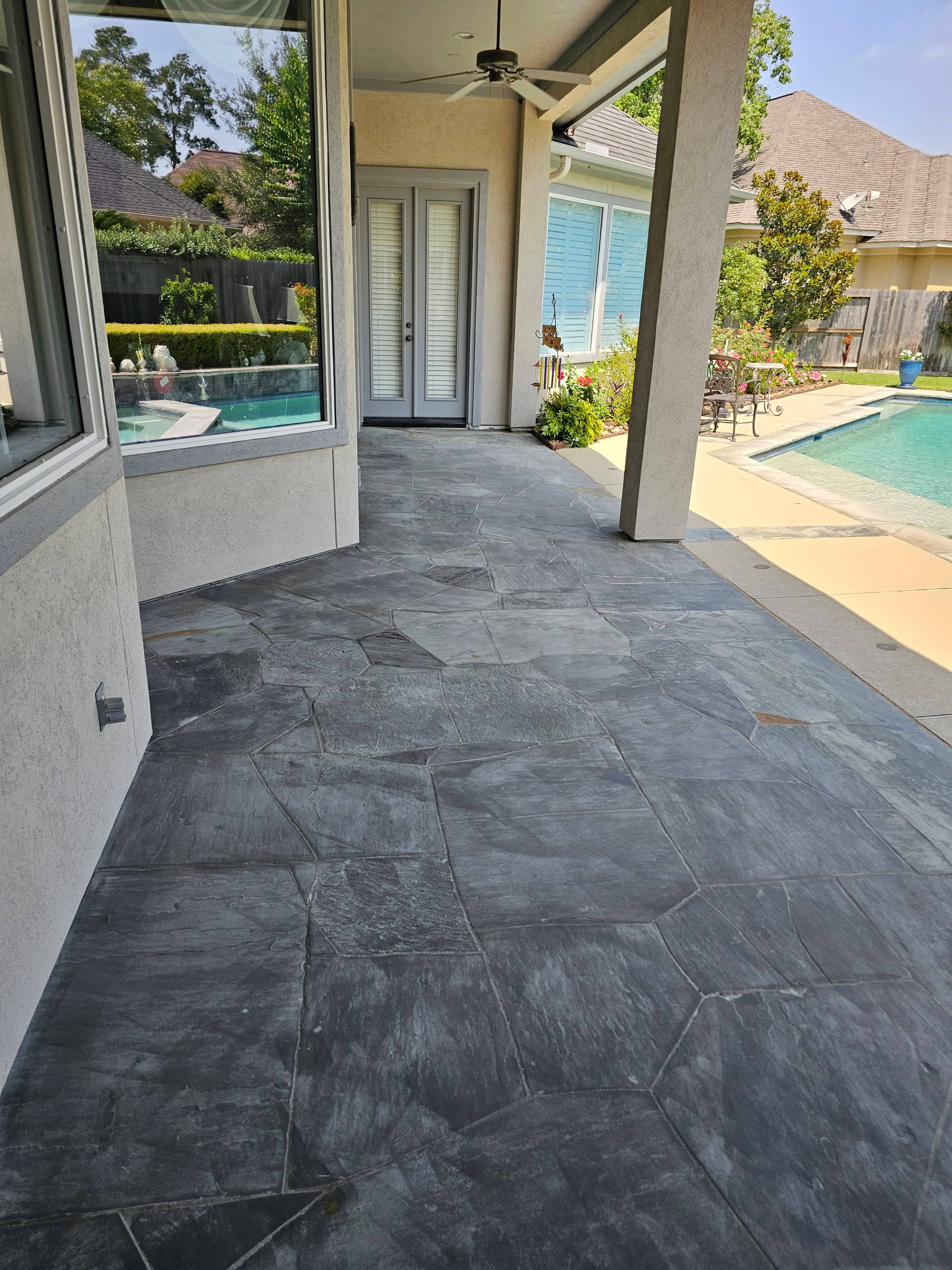 The Challenge of Cleaning Slate Floors
While slate floors are known for their resilience, they can accumulate dirt, grime, and stains over time, diminishing their beauty. The unique texture of slate tiles can make cleaning a bit challenging, as debris tends to lodge itself in the crevices and uneven surfaces. Using improper cleaning methods or harsh chemicals can lead to damage or discoloration of the tiles, emphasizing the need for professional slate floor cleaning services.
Introducing Biz Floors: Your Slate Floor Cleaning Experts
Biz Floors, a reputable name in the flooring industry, offers specialized slate floor cleaning services in Houston that cater to the unique needs of this exquisite flooring material. With a commitment to excellence and customer satisfaction, Biz Floors has earned a reputation for delivering outstanding results that breathe new life into slate floors.
The Biz Floors Difference
Experienced Professionals: The team at Biz Floors comprises experienced professionals who understand the intricacies of slate flooring. They have in-depth knowledge of the best practices for cleaning, sealing, and maintaining slate floors, ensuring that your investment is treated with the utmost care.
Customized Solutions: Every slate floor is unique, with distinct patterns and textures. Biz Floors recognizes this individuality and tailors their cleaning approach to suit your specific flooring requirements, ensuring that the cleaning process enhances the natural beauty of the slate.
State-of-the-Art Equipment: To achieve exceptional results, Biz Floors utilizes state-of-the-art equipment and eco-friendly cleaning agents that effectively remove dirt and stains without causing harm to the slate tiles or the environment.
Comprehensive Services: Beyond cleaning, Biz Floors offers comprehensive slate floor maintenance services, including sealing to protect the surface and prolong its lifespan. This commitment to long-term care sets them apart as a holistic solution provider.
Customer-Centric Approach: Customer satisfaction is at the heart of Biz Floors' operations. Their team communicates transparently, educates clients about proper slate floor care, and strives to exceed expectations with every project.
The Path to Resplendent Slate Floors
Engaging the services of Biz Floors for your slate floor cleaning needs is a step toward reviving the grandeur of your space. Their meticulous attention to detail, commitment to quality, and dedication to preserving the natural beauty of your slate floors ensure that you will enjoy a refreshed and captivating environment for years to come.
In the bustling city of Houston, where aesthetics and functionality intertwine, Biz Floors stands as a reliable partner for slate floor cleaning services. Whether you're a homeowner, business owner, or interior designer, the experts at Biz Floors are poised to elevate your space with their expertise and passion for slate floor restoration. Contact them today to embark on a journey toward resplendent slate floors that capture the essence of timeless beauty.