Travertine floors exude a timeless elegance that can elevate any space, be it a residential home or a commercial establishment. However, the natural beauty of travertine can fade over time due to wear, stains, and accumulated dirt. To bring back the original charm of your travertine floors and make them shine once again, Biz Floors offers top-notch travertine floor polishing services in Conroe, Texas. In this article, we will explore how Biz Floors' expert polishing services can revitalize your travertine floors, leaving them looking as good as new and adding a touch of sophistication to your living or working environment.
Understanding Travertine Floors:
Travertine is a form of limestone formed from mineral-rich hot springs. Its unique porous surface and distinctive texture make it a sought-after choice for flooring, countertops, and wall cladding. The inherent variation in color and veining of travertine tiles adds character and charm to any space, making it a favored material for those seeking a touch of natural elegance.
The Need for Professional Polishing:
Despite its durability, travertine is susceptible to surface damage and dullness over time. Regular foot traffic, spills, and improper cleaning can cause scratches, stains, and a loss of shine on the surface. While routine cleaning can remove surface dirt, professional polishing is necessary to restore the original beauty of travertine floors. Biz Floors' team of skilled technicians understands the nuances of travertine and employs specialized techniques to achieve exceptional results.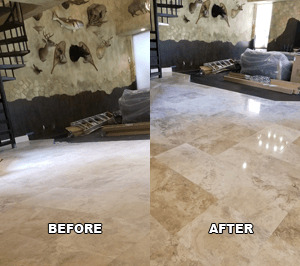 Comprehensive Polishing Process:
Biz Floors' travertine floor polishing process is a thorough and meticulous procedure designed to bring out the best in your travertine floors. The process starts with a careful assessment of the floor's condition to identify areas that require specific attention. Next, they use diamond abrasive pads of varying grits to gently remove imperfections, scratches, and stains from the surface.
Honing and Polishing:
After the initial grinding, Biz Floors moves on to honing, using finer grit pads to further smoothen the surface and eliminate any remaining blemishes. The final step is polishing, which reveals the natural shine and brilliance of the travertine. Biz Floors offers multiple finish options, including matte, semi-gloss, and high-gloss, allowing you to choose the ideal look for your floors.
Sealing for Long-Lasting Protection:
To ensure the longevity of your newly polished travertine floors, Biz Floors applies a premium sealer. This sealant creates a protective barrier, guarding the stone against spills, stains, and moisture penetration. Proper sealing not only enhances the floor's appearance but also safeguards it from future damage, preserving its beauty for years to come.
Customized Solutions for Every Space:
Whether you have travertine floors in your home or commercial space, Biz Floors tailors their polishing services to meet your specific needs. They understand that different environments have varying levels of foot traffic and wear, and their team of experts adapts their approach accordingly, ensuring remarkable results for every project.
Travertine floors are a captivating addition to any space, infusing it with timeless beauty and elegance. To maintain their allure and preserve their natural charm, professional travertine floor polishing is essential. Biz Floors' specialized travertine floor polishing services in Conroe, Texas, offer the perfect solution to rejuvenate your floors and restore them to their original splendor. With their expertise, cutting-edge techniques, and commitment to customer satisfaction, Biz Floors ensures that your travertine floors remain a captivating centerpiece in your home or business, exuding sophistication and elegance for years to come.