MARBLE POLISHING SERVICES
Bizaillion Floors, LLC. prides itself on our marble polishing services we use cutting edge methods available to our customers to restore luster and ultimate shine of marble surfaces. From our innovative techniques and expertly-crafted machinery used in conjunction with custom products and specialized services, Bizaillion Floors, LLC. brings dull, damaged marble back to life.
MARBLE POLISHING, BEFORE & AFTER
Industry standards in marble polishing services include crystallization and diamond polishing. Both effective. Both controversial. Crystallization (or vitrification) is the process of applying acid-based products with steel wool. While this is a common practice, and many refinishers typically follow this process, Bizaillion Floors, LLC. believes crystallization is an archaic method and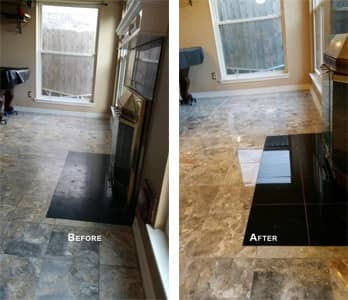 alternative methods produce higher quality and better results. "Diamond" polishing is a process of buffing surfaces with a variety of hard, aggressive pads as well as less aggressive finishing pads and superior polishing powders. The hard pads remove severe and shallow scratches while the pastes and powders bring the finished product to perfection.
Although both methods mentioned above can vary in execution, Bizaillion Floors, LLC. institutes a proven, refined method specifically to enhance the beauty of marble by combining countless types and brands. Such as aggressive and non-aggressive diamond pads and numerous types of powders. Bizaillion Floors, LLC. specifies the application based on the hardness and porosity of each natural stone. Much like a master craftsman insists on his toolbox being more than adequate, the right tool, or diamond pad, for the unique need is paramount. This is the first thing that makes Bizaillion Floors, LLC. different. Another big difference is Bizaillion Floors, LLC. works with manufacturers that are advancing their technologies to find ways to improve or adjust the size, speed, and pressure among other things. This pushes diamonds to produce far greater quality, resulting in a surface that will look better and last longer.
Marble Polishing Services
Next, our custom-designed electronic water-fed injector is very unique in the industry. Basically, water is only released when the machine is running and the amount of water is exact. Instead of depending on the traditional method of the operator controlling the amount of water dispensed. (A hit and miss at best!) This also allows precision work right up to the very edge of the wall with equal compression so that nothing is lefts. The electronic injection also keeps the walls from becoming wet and damaged because the operation is more controllable.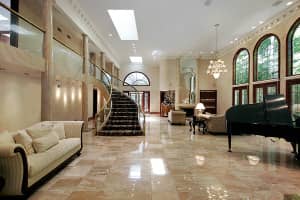 Always pressing the boundaries to produce uncompromised quality when it comes to remaining innovative and efficient. With new advancements in environmentally-safe products and state-of-the-art equipment, Bizaillion Floors, LLC. ensures unparalleled results.
MARBLE POLISHING SERVICE AREA
We offer marble polishing services in Houston, Katy, The Woodlands, Kemah, Conroe, Bellair Texas, and all connecting areas. Trust us with all your marble polishing needs.
HOW TO POLISH MARBLE
To polish marble, you must start off with a clean floor. The next step would be to evaluate the marble to see how badly the floor is scratched and etched. Or how healthy the floor is so we can determine how deep you must go with your diamonds typically most floors will start off with a #200 diamond and then proceed with the next steps #400-#600-#800-#1800-#3000-#6000 diamonds (Every system is different this is just a generic example). After running all your diamonds you can start with your polish if more shine is desired. After cleaning, grinding, and polishing is done then you will need to seal the floor with a penetrating sealer to complete the job. type.
WHAT IS MARBLE?
Marble is a rock resulting from the metamorphism of sedimentary carbonate rocks, most commonly limestone or dolomite rocks. Metamorphism causes variable recrystallization of the original carbonate mineral grains. Marble comes in many different colors and designs. Pure white marble is the result of the metamorphism of very pure limestone. The characteristic swirls and veins of many colored marble varieties are usually due to various mineral impurities. Such as clay, silt, sand, or chert which were originally present as grains or layers in the limestone.
Have Any Project for Us? Call Now Or Send A Message SEND MESSAGE
Contact Us
12436 Farm to Market 1960 Rd W #111, Houston, TX 77065, USA
Call (832) 290-2142